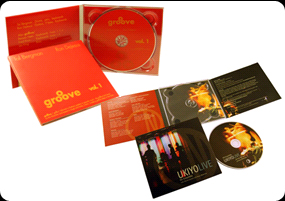 Digipaks
A Digipak is a fabulous way to impress your client with your final project! Digipaks are made with cardboard and a plastic tray to hold the disc. We can also supply you with environmentally friendly Digipaks using CCNB recycled cardboard and 100% recyclable plastic trays if you wish!
Digipaks are a great alternative to the standard plastic case with a booklet or insert. A Digipak is a great use of space because the packaging itself is also the printed material.
Kinwood Multimedia can offer our clients with a wide variety of Digipak shapes and sizes for both CD and DVD application. Adding extra trays, extra panels and even pockets are available options.